What do Oracle, HP, IBM have in common? Aside from being tech giants worth billions of dollars, they all consider Ukraine and Bulgaria to be excellent providers of top software development services. Both countries are attractive destinations among European countries, and not only due to their numerous software development professionals and competitive rates.
Let's give them a closer look.
Tech Education in Ukraine and Bulgaria
Ukraine
Software developer salaries are far higher than average in Ukraine, which makes the profession one of the most lucrative and sought-after among the younger generation. This leads to competition where developers with higher level of skills enter the market.
More than 401 educational establishments release 38,000 qualified and professional software development graduates every year. The number of programmers is forecasted to increase to over 200,000 by 2020. 87% of Ukrainian developers have completed their  higher education. 56% of Ukrainian graduates have  technical, mathematics, or engineering degrees.
Bulgaria
3,500 of students enter national technical universities, and only 2,000 of them manage to receive a degree after graduating. The research shows that Bulgarian software outsourcing businesses are in want of around 6,000 qualified engineers each year.
Being one of the most prosperous industries in the country, the software development sector prompts universities to launch new courses and include computer science classes into their educational programs.
How Many Developers are There in Ukraine and Bulgaria?
Ukraine
Ukraine takes the 1st place in Europe by sheer number of software and custom application development professionals. More than 116,000 specialists work in about 1,000 software development outsourcing companies. Microsoft, Siemens, eBay, Wargaming, Boeing, Skype, Samsung, IBM, and others opened their dev centers in Ukraine.
DOU reports that 53% of all the professionals are programmers, 14% are software testers, and 7% are managers. 39% of all software development teams live in Kyiv, the capital city. Other popular destinations are Kharkiv, Lviv, Dnipro, and Odessa.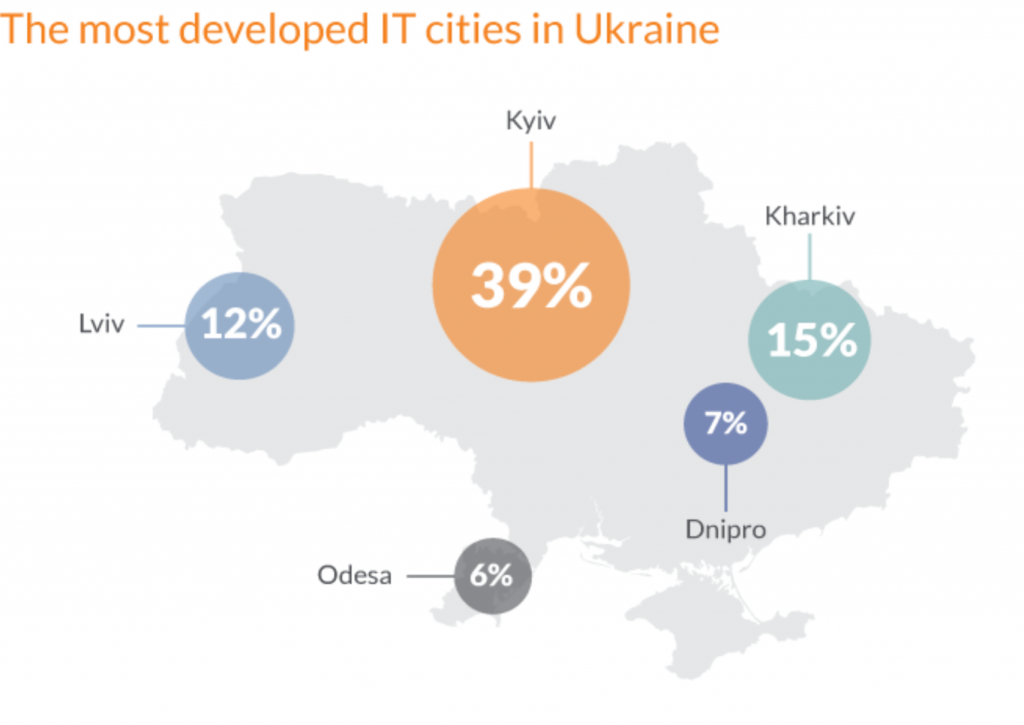 Bulgaria
Bulgaria's software development market includes 24,000 professionals who work in 400 companies. The country has a rather high number of R&D offices of global software engineering corporations such as HP, SAP, Johnson Controls, Oracle, CISCO, and ProSyst. About 80% of outsourcing companies and specialists live in Sofia (the capital city).
Distribution of employees in software development sector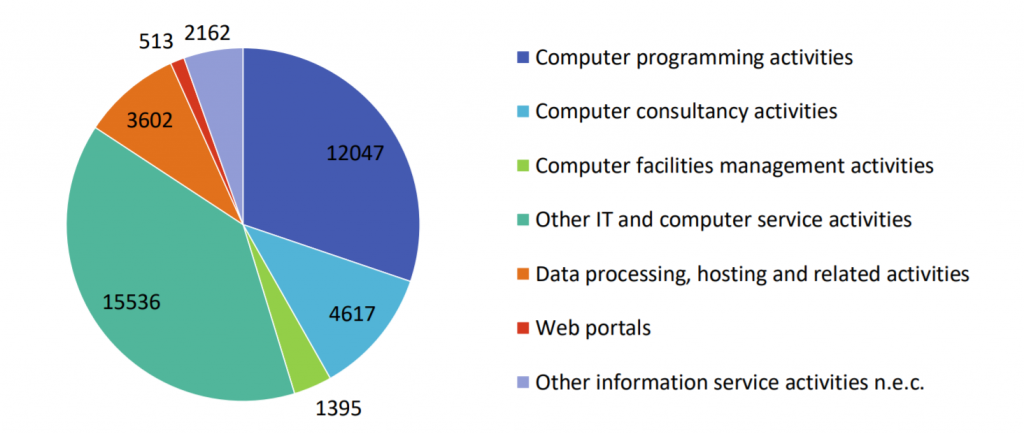 Other popular software development destinations are Plovdiv, Burgas, Varna.
How Skilled are the Developers in Ukraine and Bulgaria?
Ukraine
Ukraine is one of the leaders of outsourcing software development in Eastern Europe. The country won in the category of "Offshoring Destination of the Year" in 2017. The skills assessment resource SkillValue ranks Ukraine the 8th
in a list of top countries with the best programmers. According to HackerRank Programming Olympics, Ukraine came in 11th. In the TopCoder country ranking, Ukraine occupies the 6th position.
Ukrainian software outsourcing companies organize lots of events like IT arena, IT Weekend Ukraine, iForum, Dev Challenge 11, Outsource People, etc. There exist so called IT Clusters which work in most Ukrainian cities. They cooperate with schools, colleges, and universities in order to launch new educational programs which will meet the demands of the changing software development market.
Java is the most sought-after programming language in Ukraine. A DOU survey released the list of other widespread technology stacks, which you can find in the table below:

Most of the engineers have adequate experience in software development, which you can find in the table below (based on DOU report of 2018):
| Experience in software development | Percentage of respondent |
| --- | --- |
| More than 10 years | 13% |
| 6–10 years | 16% |
| 3–5 years | 27% |
| 1–2 years | 25% |
| Less than a year | 13% |
Bulgaria
Bulgaria is in the list of the TOP 5 countries where developers with the broadest spectrum of knowledge in various programming technologies.
According to SkillValue, the country comes in 14th among the top countries with the best programmers. In 2015, the country was named "Offshoring Destination of The Year" by the UK's National Outsourcing Association (NOA). According to the HackerRank Programming Olympics, Bulgaria came in 12th. In the TopCoder country ranking, Bulgaria occupies the 21st position.
The country is fostering the growth of its programming talent by launching some government-level initiatives. First, there is the Bulgarian ICT Cluster Society. This is an organization of the country's software development business, a policy maker and a know-how transfer center. Besides, there's the Applied Research and Communications Fund, which focuses on developing the national innovation system.
Sofia's Software University Co-Founder Svetlin Nakov released the list of the most popular technology stacks in Bulgaria which you can find in the table below:
| | |
| --- | --- |
| Java (+ JS + HTML + SQL) | 15–16% |
| C# (+ JS + HTML + SQL) | 15–16% |
| PHP (+ JS + HTML + SQL) | 15–16% |
| JavaScript (+ HTML, SQL) | 15–16% |
| C++ | 89% |
| Mobile development (iOS / Android) | 67% |
| Python | 4–5% |
| Others | 20% |
The average developer is relatively young. 90% of all professionals are up to 35 years old. 85% of all specialists in dedicated software development teams employed in the software development industry are programmers.
What is the English Proficiency Level in Ukraine vs Bulgaria?
Ukraine
Ukrainian software developers have a high level of English, where about 40% of the specialists speak English fluently, and 38.5% are at upper intermediate level.
Bulgaria
Bulgarian developers also have a high level of English proficiency. Over 85% of students study English and over 45% of the entire population speaks a foreign language.
What are the Salary Rates in Ukraine vs Bulgaria in 2018?
It's rather hard to evaluate total software development outsourcing costs as pricing differs from company to company. IT Outsourcing Market Review provides the information on the median salaries of Ukrainian and Bulgarian offshore software developers which you can find in the table below:
| Salary in IT | Bulgaria | Ukraine |
| --- | --- | --- |
| Junior developer | $600–900 | $600–950 |
| Middle Developer | $1200–2200 | $1100–2300 |
| Senior Developer | $2500–3000 | $2400+ |
| Lead developer | $3500+ | $3200+ |
Average Minimum and Maximum of Outsourcing Companies in Ukraine vs Bulgaria
Software development costs in both countries may vary in terms of minimum and maximum rates. We can find and compare this information on average rates of top-20 companies in Ukraine vs Bulgaria on Clutch.io.
| Rates | Bulgaria | Ukraine |
| --- | --- | --- |
| minimum rate | $36.3 | $32.5 |
| maximum rate | $69 | $61.5 |
2017 Software Development Salary Survey showed that there is a significant difference between the US, with a median salary of $115K, and Eastern Europe with only $28K.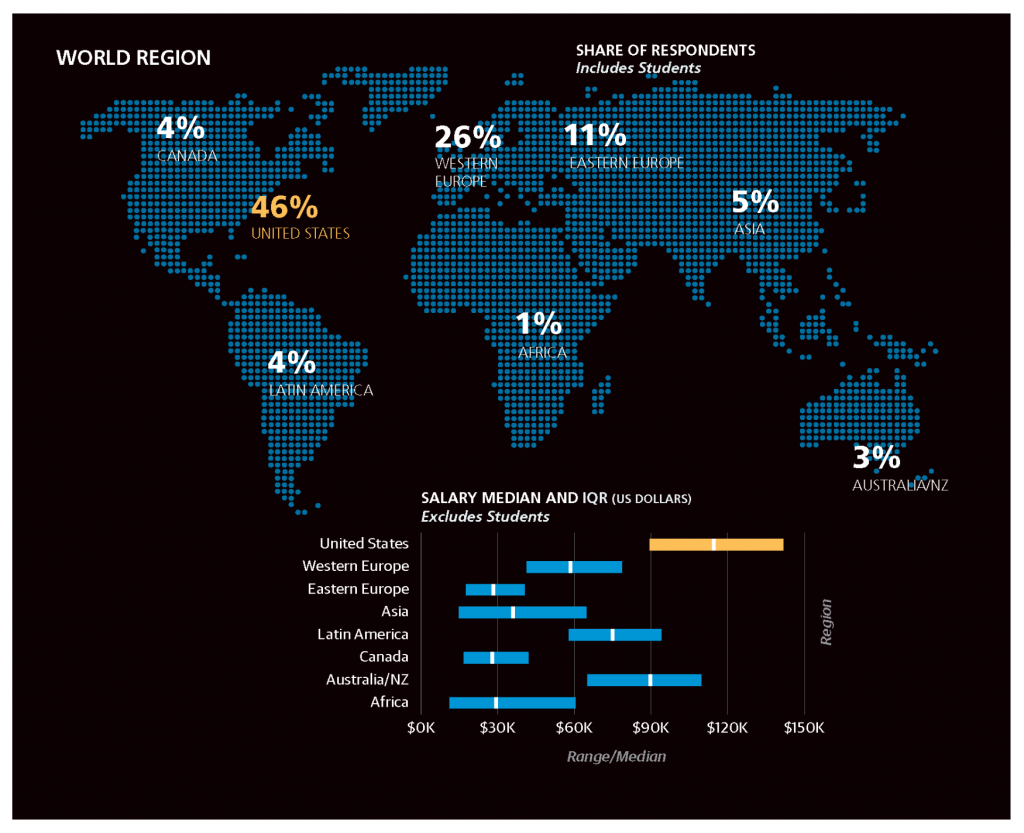 What is the Attrition Rate in Ukraine and Bulgaria?
The attrition rate is low in both countries.
Ukraine
Ukrainian attrition rate of 10% is also lower than, let's say, in India which can reach 20-21%. The DOU survey showed that 52% of Ukrainian software developers like their job, and 52% of them are satisfied with their salary.
Bulgaria
Bulgarian sources indicate that the country's turnover rate is less than 3%. Heidelberg survey admits that 1/3 of software developers would like to change their occupation within a year's time, 26.7% are ready to accept a better job offer. As for salary satisfaction, 12.4% of Bulgarian developers are 100% happy with their wages.
Both countries' attrition rates are also lower that in US where employee turnover exceeded 13% in software in 2017.
What are Countries' Tax Systems and Legislation?
Both countries are relatively easy to operate in. The governments of the countries aim to improve business environment by offering a range of incentives for foreign investors. It's important to investigate the countries' vacation days, working hours, and public holidays when thinking about offshore development.
Ukraine
According to the IMF, Ukraine recorded a 2% GDP growth in 2017. Estimates for 2018 forecast a 3.2% growth. Analysts predict that Ukraine will become a member of the EU in several years.
Ukrainians have 10 public holidays per year. A typical working week is 40 hours long. A standard vacation is 20 paid days per year.  
Bulgaria
Compared to Ukraine, Bulgaria has a lower currency risk as the local currency is pegged to the Euro. The country is a EU member which allows its developers to work for companies from other EU countries. Overall, the Business Process Outsourcing (BPO) sector's contribution to the country's economy amounts to 3%. The forecasts predict annual average economic growth of 2.9% in 2018–2022.
The standard working time is eight hours per day over a 40-hour (five-day) week. Paid vacation in Bulgaria may not be shorter than 20 working days. Bulgarians have 17 public holidays.
| Taxes | Bulgaria | Ukraine |
| --- | --- | --- |
| Personal Income Tax | 10% | Private entrepreneur model with flat tax rate 5% |
| Personal Social Taxes | 12.9% | $25/month |
| Employer Social Taxes | 17.8–18.5% | 0% |
Is the Time Gap Convenient for Software Outsourcing?
Time zones in both countries are defined as UTC+02:00 and in summer as UTC+03:00. The working hours are convenient for communications and control. The time gap is one hour for Benelux and Germany, 2 hours for UK and France, 7 hours for USA (Washington, DC).
Comparison Matrix: Software Development in Ukraine versus Bulgaria
| | Ukraine | Bulgaria |
| --- | --- | --- |
| Number of Developers | 116,000 | 24,000 |
| Number of software development companies | 1,000 | 400 |
| Software development graduates | 38,000 | 3,500 |
| Education spending | 13.90% | 10.70% |
| English proficiency | Middle | High |
| Average salary per hour | $47 | $52.70 |
| Personal Income Tax | Flat tax rate 5% | 10% |
| Personal Social Tax | $25/month | 12.90% |
| Employer Social Taxes | 0% | 17.8–18.5% |
| GNI | $7,840,00 | $17,880,00 |
| The most popular tech stacks | Java, JavaScript, C#, PHP, Python | Java, C#, PHP, JavaScript, C++ |
| The biggest cities | Kyiv, Kharkiv, Lviv, Dnipro, Odessa | Sofia, Plovdiv, Burgas, Varna |
Which Destination to Choose?
Both Ukraine and Bulgaria are developing quickly. They have a lot in common in many aspects. Both countries are on the Bloomberg's list of top-50 most innovative countries. Both have a location advantage over India or China.
The main difference between the countries lies in the size of a talent pool. Bulgaria is smaller, with a fewer number of professionals. Software development market growth ratio in Ukraine outruns its counterparts from other European countries. More and more students get certificates in programming. For Ukrainian graduates, software development market remains the most popular and high-demanded area.
If you're exploring outsourcing Ukraine as the most suitable destination, DedicatedTeams are a great team of professionals who have more than 15 years of proven experience in custom software development. We combine the best aspect of onshore and nearshore outsourcing.
The DedicatedTeams are experts in mobile, enterprise, UI, and full-stack web development. We build software for aerospace, BI, content publishers, smart agriculture, and retail.
Being a DC-based Inc 5000 business, we have remote development centers in Ukraine and Argentina. The Clutch.co included us on the list of the top-10 Ukrainian software development companies as of June 2018. We're also among the top-5 employers for software developers in Ukraine.
Search for great software development team? DedicatedTeams are right here for you to get your business to the new level. Contact us to learn more.