What countries are the first to come to your mind when you're thinking of outsourcing? In the 90s, India ruled supreme in both software development and IT outsourcing. Today, tech brands like Samsung, Qualcomm, Microsoft, and Oracle view Eastern Europe as the go-to destination with a top-notch talent pool.
So here's a question: which country should you choose among all European outsourcing hotspots?
Ukraine, Poland, and Romania are mainstream options for software development; Bulgaria is gaining prominence too. Belarus is yet another destination that has appeared on the radar of tech brands in recent years.
Knowing that our biggest development centers are in Ukraine, how does Belarus compare to this location? On a high level, developers from both countries can offer excellent software development skills for reasonable rates. But let's delve into greater detail.
The Number of Developers in Ukraine vs Belarus
Ukraine
According to the IT Ukraine Association, the software development industry grew by 2.8 times in the last 5 years and continues to grow. There are more than 116,000 software developers in Ukraine working for 1,000+ outsourcing firms and software development shops. The Ukraine Digital News is predicting the number of programmers to be over 200,000 by 2020.
About 39% of Ukrainian software developers live in the capital city, Kiev. There are other cities with good software development infrastructure like Kharkov, Lviv, Dnipro, and Odessa.
Belarus
Belarus has over 30,000 specialists employed by more than 1,000 software development firms.
The tech market is mostly concentrated in Minsk (88.9%). Software development companies also set up their offices in other big cities among which are Gomel, Grodno, and Brest.
Winner: Ukraine🇺🇦
2. What Brands Outsource to Ukraine and Belarus?
Ukraine
The number of software development and R&D companies grows every year by double-digit figures (according to the Ukraine Digital News). Brands like Skype, Boeing, Oracle, Microsoft, eBay, Wargaming, Siemens, Cisco, Rakuten, Samsung, and many more operate R&D centers in Ukraine.
Belarus
There are more than 650 outsourcing companies, and 80 R&D centers of international companies in Belarus. Brands like Playtika, Viber, WorkFusion, Fitbit, and Sony opened their centers in Belarus.
Winner: tie
3. Costs and Salary Rates in Ukraine vs Belarus
Companies do not usually advertise their salary rates as such an information is confidential. However, we can find median salaries for junior, middle, senior, and lead developers on publicly available resources. The IT Outsourcing market review: Belarus vs Ukraine provides the approximate figures which can be indicative of the average costs.
| | | |
| --- | --- | --- |
| Seniority level | Ukraine | Belarus |
| Junior Developer | $900 | $750 |
| Middle Developer | $1800 | $1700 |
| Senior Developer | $2600+ | $2400+ |
| Lead Developer | $3600+ | $3200+ |
Average Minimum and Maximum of Outsourcing Companies on Clutch.co.
Being a reputable reviews website in software outsourcing, Clutch.co is a source of information about the rates of the best development shops. Namely, Clutch features the minimum and maximum salaries. Let's see how the average rates of the top-20 companies found on Clutch.co compare for Ukraine and Belarus:
| | | |
| --- | --- | --- |
| Rates | Ukraine | Belarus |
| minimum rate | $32.5 | $29 |
| maximum rate | $61.5 | $57 |
Winner: Belarus🇧🇾
4. Software Development Skills
Ukraine
Ukrainian engineers are among the most skilled developers in the world. Here are seven facts that prove this:

Source: International Olympiad in Informatics statistics
The table above represents the top-10 developers who won the gold medals in the Olympiad.
Belarus
Belarus has many qualified software developers who are recognized worldwide: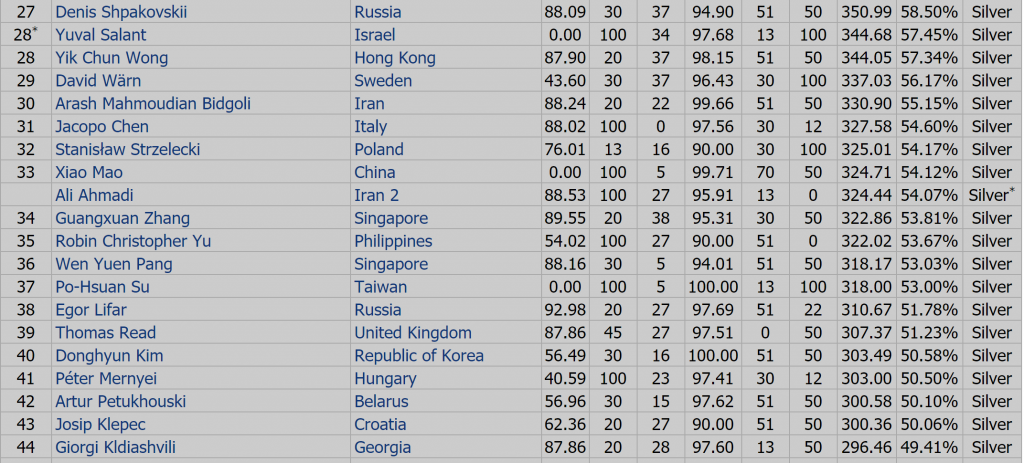 Source: International Olympiad in Informatics statistics
The table above represents top-20 developers who won the silver medal in the Olympiad.
Winner: Ukraine🇺🇦
5. Top Programming Languages
Ukraine
With a 23% market share, Java is the most popular language among Ukrainian programmers. Other mainstream languages are JavaScript, C#, PHP, Python, C++, and Swift. See the chart below for a rating of top programming languages in Ukraine according to DOU:

Source: Dou survey
Belarus
21.3% of Belarusian developers choose Java. Other popular languages are .Net, C#, JavaScript, PHP, Python, C++, SQL, Ruby, Swift. See the table below for a rating of top programming languages in Belarus according to a survey by dev.by:

Source: IT in Belarus survey
6. Tech Education in Ukraine vs Belarus
Ukraine
More than 401 Ukrainian universities release 38,000 professional software development graduates every year.
Ukrainian software development companies cooperate with educational establishments in order to improve technical skills of future specialists. The companies launch extra courses like software development basics for kids, Agile courses, official summer practice for students, Internship programs for senior students and graduates, etc.
Belarus
There are about 51 educational institutions which release around 3,500 graduates whose specializations are relevant to computer science.
There's also quite a bit of cooperation between software development companies in Belarus and the country's universities. In particular, Belarusian R&D centers and development firms operate the so-called branch departments to foster technical education. These departments host classes where CS students can obtain practical experience directly on a company's premises.
Winner: tie.
7. English Language Proficiency
Most Ukrainian and Belarusian developers have an intermediate level of English, which is enough for business communication.
Ukraine
The research by DOU showed that 33% of software developers have upper intermediate level, and 12% have advanced and higher level of English proficiency.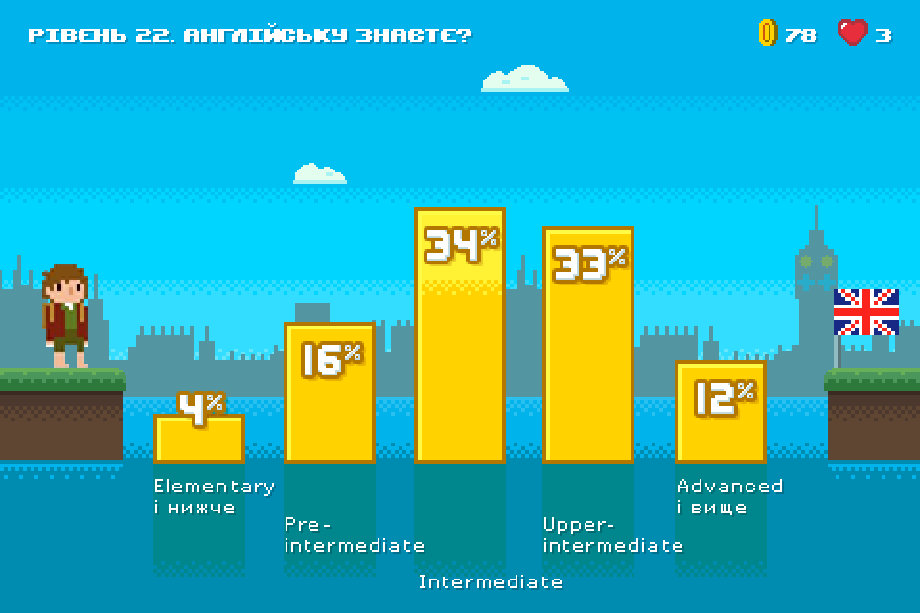 Source: DOU infographics
Belarus
The analysis by Solbegsoft showed that 36% of software developers have sufficient English skills for interviewing, and this number is increasing by the year.
Winner: Ukraine🇺🇦
8. Attrition Rate
Ukraine
The attrition rate is 10% in Ukraine. This is relatively low, even as compared to the 13% turnover in the US, which means employees in Ukraine are generally easier to retain. According to the DOU survey, 52% of Ukrainian software developers like their job, and 52% of them are satisfied with their salary.
Belarus
Ernst & Young quotes an attrition rate of 10–15% for Belarus. The same survey showed that 24% of software development engineers changed their job during the last 12 months. The average continuous employment period — when an employee has been working for one employer without a break — is two years or less in Belarus.
Winner: Ukraine🇺🇦
9. Time Gap in Ukraine vs Belarus
Ukraine follows a UTC+02:00 time standard in winter and shifts to UTC+03:00 in summer.
In Belarus, there are no clock changes associated with Daylight Saving Time, and the country uses a UTC+03:00 standard throughout the year.
All in all, the working hours in both are convenient for real-time communication with Western Europe and the US.
Winner: tie
10. Business Climate
Ukraine
The Ukrainian government is making steady progress in creating better conditions for doing business. The country climbed 20 positions up in three years and occupies 76th position in Doing Business rating. It is also had a breakthrough in the "paying taxes" indicator this year, which jumped up by 41 positions. Ukraine has also made paying taxes easier by reducing the rate for the single social contribution tax.
According to the International Monetary Fund, Ukrainian GDP growth was 2.2% in 2017. The Trading Economics Estimates forecast a 3.1% growth in 2018. According to the IT Ukraine Association, the country's software development exports were $3.6 billion in 2017, and the figure is going to reach $4.5 billion in 2018.
Belarus
The business climate in Belarus is improving. According to the Doing Business rating, the country took the 38th position among 190 countries in 2018.
Belarusian software development companies will benefit from complete tax exemption if they join an initiative called the Hi-Tech Park. The Park provides a special business environment for software development business. The initiative covers development and construction centers, offices, residential building, educational accommodations, etc.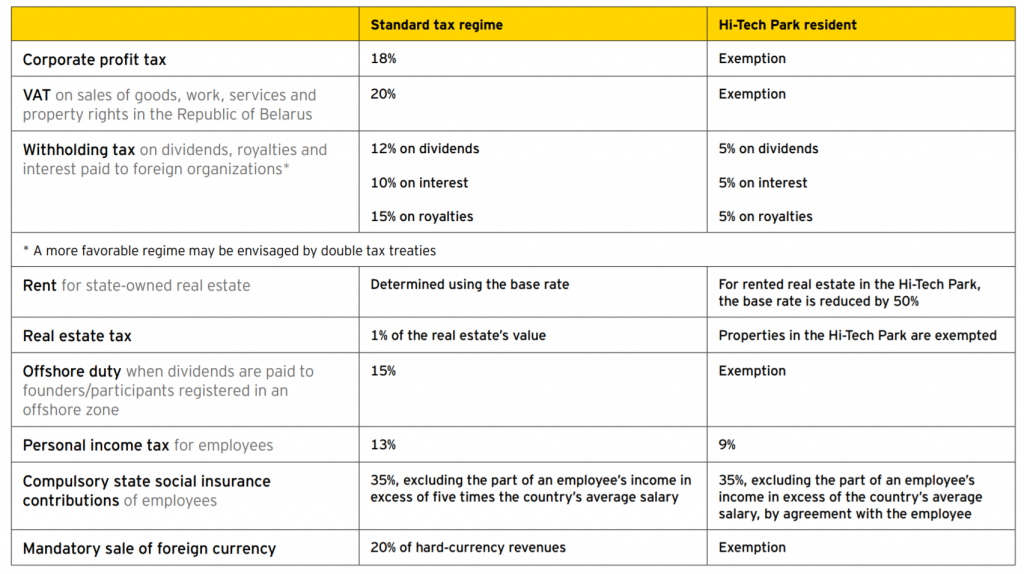 Source: The IT Industry in Belarus report 
Labor Market Regulation Data Comparison
The Doing Business report provides insights into labor market regulations in the countries around the world. Let's take a look at Ukraine vs Belarus.
| | | |
| --- | --- | --- |
| | Ukraine | Belarus |
| Use of fixed-term contracts for permanent tasks | Yes | No |
| Minimum wage to value added per worker (ratio) | 0.5 | 0.2 |
| Probationary period (max months) | 3.0 | 3.0 |
| Number of working days per week (max) | 5.5 | 6.0 |
| Premium for working at night (% of hourly pay) | 20.0 | 20.0 |
| Premium for working on weekends (% of hourly pay) | 100.0 | 100.0 |
| Premium for working overtime (% of hourly pay) | 100.0 | 100.0 |
| Restrictions on nighttime work | No | No |
| Non-pregnant and non-nursing women are allowed to work the same night hours as men | No | Yes |
| Restrictions on working overtime | Yes | No |
| Paid annual leave (working days) | 18.0 | 18.0 |
Ukraine
Ukrainians have 10 public holidays per year. A typical working week is 40 hours. A standard vacation in software development companies is 10–20 paid days off per year.
Belarus
Belarusians have 11 public holidays. A typical working week is eight hours a day, or forty hours per week, Mondays to Fridays. A standard vacation in software development companies is about 20 days of paid time off.
Winner: tie.
Comparison Matrix: Software Development in Ukraine versus Belarus
| | | |
| --- | --- | --- |
| | Ukraine | Belarus |
| Number of Developers | 116,000 | 30,000+ |
| Number of software development companies | 1,000 | 1,000 |
| Software development graduates | 38,000 | 3,500 |
| English proficiency | Middle | Middle |
| Average salary per hour | $47 | $43 |
| Personal Income Tax | Flat tax rate 5% | 9% |
| Personal Social Tax | $25/month | 1% |
| Employer Social Taxes | 0% | 35% |
| Gross National Income (GNI) | $7,840,00 | $17,210 |
| The most popular tech stacks | Java, JavaScript, C#, PHP, Python | Java, .NET, Ruby, PHP, Python |
| The best destinations for software outsourcing | Kyiv, Kharkiv, Lviv, Dnipro, Odessa | Minsk (mostly), Gomel, Grodno, and Brest. |
Winner: Ukraine🇺🇦
Conclusion. Which Destination is Better?
Both countries are attractive due to government support for the software development industry, low rates, and excellent skills. Compared to Belarus, Ukraine, has a higher number of developers and a more pleasant tax policy. Ukrainian developers also rank higher in various programmer ratings.
With that said, Belarus has a number of advantages too. This includes lower salary rates as compared to Ukraine.
If you're exploring Ukraine as an outsourcing destination, DedicatedTeams is a great development shop to consider.
We are a DC-based Inc 5000 business with remote development centers in Ukraine and Argentina. Clutch lists us among the top-10 Ukrainian software development companies. We're also a top-ranked custom software development company in the Clutch Leader Matrix for San Francisco and Bay Area.
We offer team extension services for product companies that build complex software projects. Our expertise spans across a variety of industries including retail, content publishing BI, aerospace, and even smart agriculture.
Want to learn more? Contact us and send a message. We love to prove ourselves to new clients, so please inquire about our risk-free trial.